A sweet treat that Germans like to grab at the bakery, is Almond Crescents or Almond Horns. Mandelhörnchen – that's their German name – are pure bliss and happen to be even gluten-free. I could describe them as Chocolate-Dipped Marzipan Almond Horns, how does that sound to you?
These sweet almond horns have been one of my pregnancy cravings and I had no shame to send my husband out at the most inconvenient times to go and get me some. He braved it while I craved it! But one doesn't have to be pregnant to fall in love with this treat. It goes wonderful with a cup of coffee or latte. As we have the coffee time as an additional meal during the day around 3 pm, there is usually some cake or cookies with that. Almond Horns often are replacing the cake, especially if we have our coffee time at the office.
Video Instructions For Almond Crescents
Easy to Make
There is not special or complicated technic to make this. The ingredients are thrown into the bowl together and mixed within 2 minutes. The only tricky part is the stickyness of the dough. But if you wet your fingers with some water, it will be possible to work with it.
Soft and Sweet
The Almond Horns are not crisp as some might think. Instead, they are soft and a little gooey. But if you prefer them to be a little crisper, just bake them a few more minutes.
The sweetness is no surprise since they are mostly made from marzipan (learn here how to make it) and powdered sugar.
Pin to Pinterest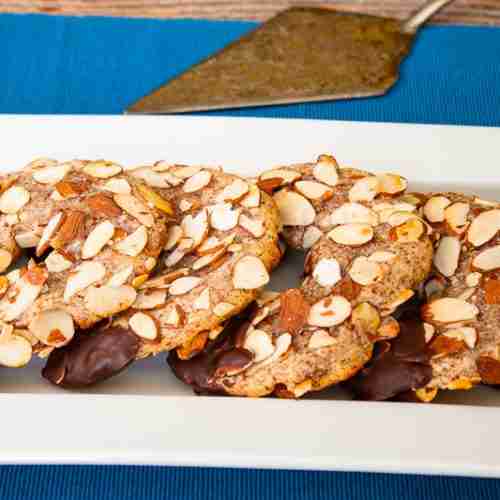 Almond Horns / Almond Crescents / Mandelhörnchen
Ingredients
200

g

marzipan

100

g

almond meal or almond flour

1

egg white for the dough

100

g

confectioners sugar (= powdered sugar)

2

tsp

lemon juice

1

egg white for dipping

100

g

sliced almonds

180

g

dark chocolate (more or less)
Instructions
Put the marzipan, almond flour, confectioners sugar, egg white and lemon juice into a bowl and mix it all together.

With wet fingers, shape 6 Crescents from the dough.

Dip each crescent first into the egg white and then turn it in the almond slices until it's well covered.

Preheat the oven to 180°C / 350°F and bake the almond crescents for 10 to 15 minutes or a little longer if you want them more crisp.

Let them cool and in the meantime, melt the chocolate in a bowl over hot water.

Once the almond horns have cooled completely, dip the ends of the horns into the chocolate.

Let the chocolate set and then enjoy our wonderful treat!