My mom was totally into healthy food, which didn't always make us kids happy. An exemption was this delicious breakfast porridge and even my kids would never guess, that something so good could also come with health benefits.
So, obviously, I continued to make this delicious porridge version even in my adulthood – if only for my kids. I actually don't often do breakfast, so I don't have this a lot. But back in the days when I was a nurse, I needed this 9 grain porridge as an energy booster for my job in the hospital. I prepared it in the evening, added the fresh ingredients in the morning, and ate it at the hospital when my shift started at 6 am. This kept me going with high energy until early afternoon.
Video: How To Make 9 Grain Porridge
Healthy Ingredients
All the ingredients are healthy on their own (please don't start a discussion about whether milk products are healthy or not, just substitute juice if you think it's better for you) and loaded with protein, vitamins and/or minerals. Although the grains are cracked, they are still considered "whole grains" since they still contain all the parts of the grain. Whole grains in general are helping with controlling blood sugar, lowering cholesterol, lower the risk of heart attacks, and contain important minerals like magnesium, copper, selenium, and others. There is a good article about this on THIS HARVARD PAGE – and it's also easy to read. Other ingredients like i.e. apples and honey contain antioxidant compounds, help with digestion, or have other health benefits.
You might not be familiar with the ingredient TAHINI, which is made from sesame seeds. Here is a little bit about its health benefits.
So, a breakfast like this should get you off to a good, healthy start into your day and also provides lots of benefits to your body.
How to Make 9 Grain Porridge
There isn't really "the recipe" for this grain porridge and it doesn't matter whether you use 9 or 7 or 3 grains.
I will tell you, how I like my Grain Porridge and you can alter it the way you like it:
I use yogurt or quark, add a mashed banana, some honey and grate some apple.
Also, I like to add tahini or almond butter and some walnuts.
I also like to add some apple cubes for a little more crunch and some honey if I need more sweetness.
The finished porridge can be eaten cold or warm. I prefer mine warm and therefore put it into the microwave for a little bit before adding the fresh fruits. I don't boil them though.
You need to plan ahead for this breakfast because the grains must soak in water overnight.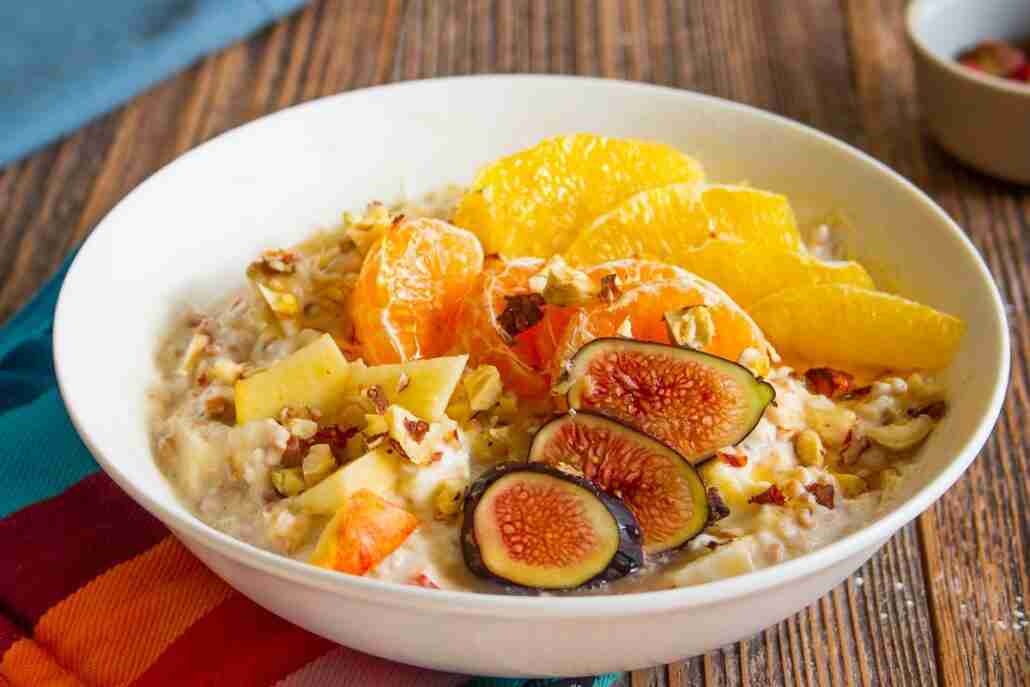 The Grains:
I use a "Cracked Nine Grain Mix" and I can even use it for baking bread. The grains contained in my mix are Red and White Hard Wheat, Oats, White Soft Wheat, Rye, Triticale, Barley, Durham Wheat, and Flax. But there might be other grain mixes that work just as well.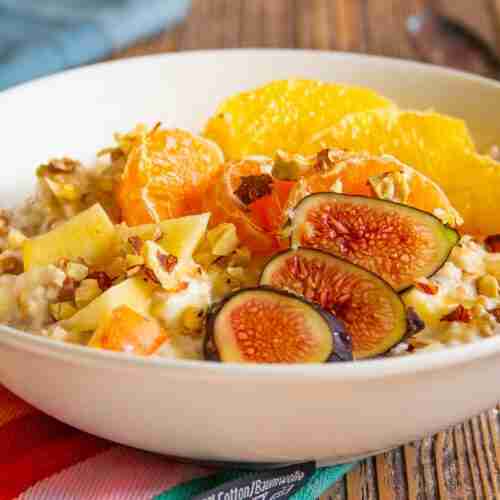 9 Grain Porridge – 9 Korn Brei
Ingredients
6

tbsp.

grains

water to cover

I boil the water and then let it cool completely

4

tbsp

yogurt

or Quark or some milk or some juice

1-2

tsp

honey

2

tsp.

tahini or almond butter or peanut butter

use more if you like

some

nuts

fresh fruits of the season

bananas for sweetness, apple or peach, plums, … any fruit you like
Instructions
Fill a container with the grains and cover completely with boiled and cooled water.

Put a lid on the container and let stand in the fridge over night.

The next morning, discard any remaining water and fill the grains in a breakfast bowl. Add yogurt, honey, and almond butter (or tahini or peanut butter).

Depending on the fruit you use you can cut it in pieces, slices, mash it or rasp it.

Add it and stir it all together.

You can heat the porridge in the microwave for about 1 minute or eat it cold.

Divide in two smaller bowls, cut some nuts and fresh fruits and sprinkle them on top.

Ready to eat … and you will be full of energy for hours!